There's just something sentimental about an autograph. It withstands the test of time. It stores a memory, a point-in-time more special than just a signature. Sports enthusiasts have been collecting and displaying autographs since the late 1800s. An entire movie plot has been built around a famous Babe Ruth signature. In a time when everything in sports is changing, an autograph is timeless.
Until now.
The autograph may be about to change. Egraphs is changing the game. In a digital world, this company has adapted and invented a new channel for memorabilia collection. The process is simple. Select a photo of a baseball athlete of your choice, write him or her a note, and you will receive a direct response. The athlete takes the time to hand-write a response and record a personalized audio message just for you.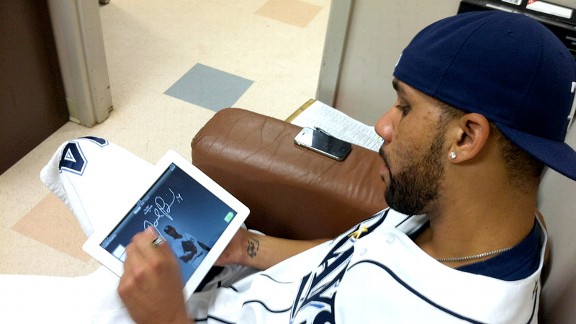 We've all seen the (sometimes desperate) pleas by Twitter users to get retweets or any sort of correspondence with their favorite superstars. Other times, a simple Twitter interaction can lead to much, much more. Whether it's Antonio Brown hanging out with fans during Super Bowl week or Kevin Durant dominating flag football during the NBA lockout, Twitter allows athletes and fans to interact like never before. Some industry experts have gone as far to say that Twitter correspondence is the autograph of the 21st century. Egraphs may be the next step in the natural, digital progression.
Let's take a look at some of the pros and cons.
Pros:
In a digital world where we interact with athletes on Twitter and Facebook, this technology aligns the autograph with these interactions.
Novelty - it's just fun, cool, interesting, and new. There is a bit of intrigue with this. "Does it really work?!"
Get a personalized voice message back. An old-fashioned autograph can't do that.
The ability to add a personal request or message is unique, unless of course you are mailing an athlete a request. (Do people still do that?)
Ease of use. It takes the "shoeleather costs" (to borrow an economic term) out of getting an autograph. Lay in bed in your pajamas and try to get a signature from your favorite star.
Ability to share with our social networks. If we're eager to share our breakfast with our friends and followers, I imagine an autograph would be worthy of sharing socially.
Cons:
Losing the "moment." When you get an autograph in person, there is that moment in time when you have your favorite athlete's attention. It's a lasting memory. With this technology, is that luster lost?
Authenticity. While Egraphs guarantees it is the athlete who wrote this message, you don't witness them doing it. Cynics will be skeptical.
Rendering of message and signature. Writing on a tablet, computer or mobile device is not always pretty. While some signatures are already illegible, you may lose some of the artistic integrity and consistency in signatures and messages.
Longevity. Will your son or grandson be able to proudly display the signature of your favorite star? Egraphs will allow you to purchase a framed photo with message and signature for an additional cost. At what point does it get too expensive, though? Or what happens when this technology inevitably becomes obsolete?
Price. I think this is offset by the fact that there is typically a price to access in an athlete in person - a ticket to a game, a fee, or a price to pay for a picture.
While Egraphs announced Friday that NBA players are now available, the list of stars providing autographs through Egraphs is currently limited.
So what do you think? Is this a flash-in-the-pan technology whose novelty will eventually wear off? Or is this just the first step in the memorabilia world going digital? It should be interesting to see what 2013 brings in the sports industry.
Wondering what else the future holds? Check out ExactTarget's Inspired Marketing Predictions for 2013.